TWITTER PARTY DECEMBER 7th (TONIGHT)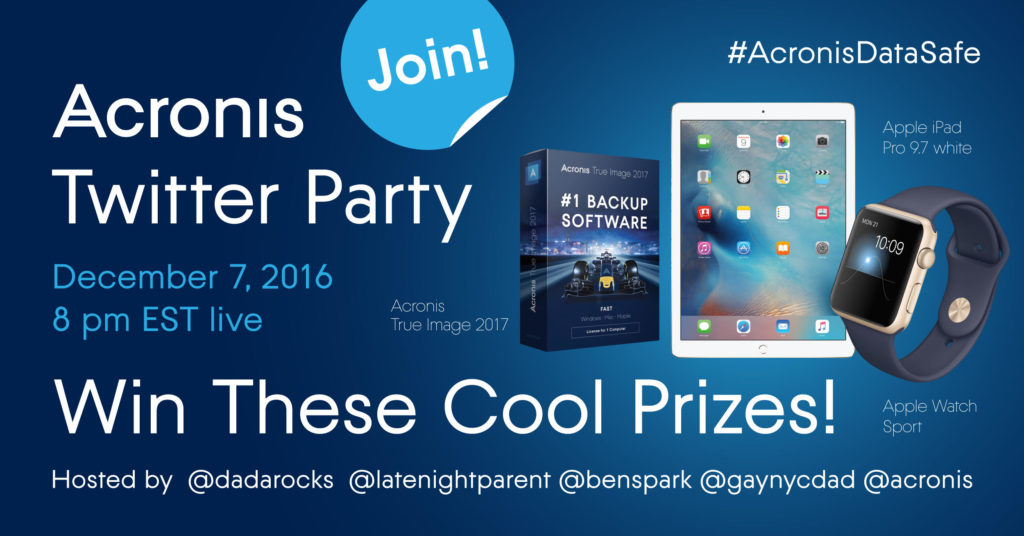 Late Night Parents along with bloggers extraordinaire @dadarocks,  @gaynycdad  and @nycsinglemom are hosting a Twitter Party this (TONIGHT) Wednesday, December 7 from 9p / E to 10p  /E!
Join the Acronis Twitter party where you will learn all about Acronis, how to keep you data safe, and ransomware!
And there will be great prizes like Acronis software, iPAD Pro and Apple iWatch Sport.
No need to RSVP,  but definitely all the co-hosts @nycsinglemom, @dadarocks,  @gaynycdad  and @latenightparent  and follow @Acronis! and use #AcronisDataSafe in your tweets.
Acronis is the #1 personal backup software!
 Acronis Twitter party, Wednesday, December 7 (9p to 10p EST!)
Disclosure: Late Night Parent is a compensated host.  All opinions are my own and totally true.