It's Thanksgiving. You're either cooking, drinking, watching football, or avoiding the family. Maybe you're doing all four at once. However, no matter how hard you try, at some point, you'll have to actually have to sit down and interact with your family.The best way to get through it and avoid awkward questions about your love/work life or angry conversations about politics? Why not suggest a classic Thanksgiving movie the whole family can sit down and enjoy together. Because, isn't that what Thanksgiving really about (except maybe passing time until you can jump on the Black Friday Deals).
Planes, Trains & Automobiles
This is THE Gold standard by which all Thanksgiving movies should be measured. Interestingly it's also one of the only movies on this list that doesn't ACTUALLY feature Thanksgiving dinner. Instead, the movie chronicles one man's journey to make it home to his family in time for dinner, all with the help (and hindrance) of a new friend who sells shower curtain rings.
The movie isn't just funny, it's also a moving tale about how people choose to spend their Thanksgiving weekends. People can easily relate to the stress and frustration Steve Martin's straight-laced character, Neal Page, has to deal with as he attempts to make it home. But, the darker side of the story is how John Candy's character, Del Griffith has had to deal with the loneliness and loss he feels about his wife passed away.
We don't ever meet Candy's wife, beyond a devastating monologue Candy gives about his loss. The pain of Griffith's character is palpable, and is easily one of Candy's most powerful performances of his career.
Thanksgiving movies are about being thankful for those in your life, and Planes, Trains & Automobiles is one of the best.
By the way, for some reason, the powers that be are trying to convince people that Planes, Trains & Automobiles is a 'Christmas movie' too. Just take a look at the cover art that's being used these days: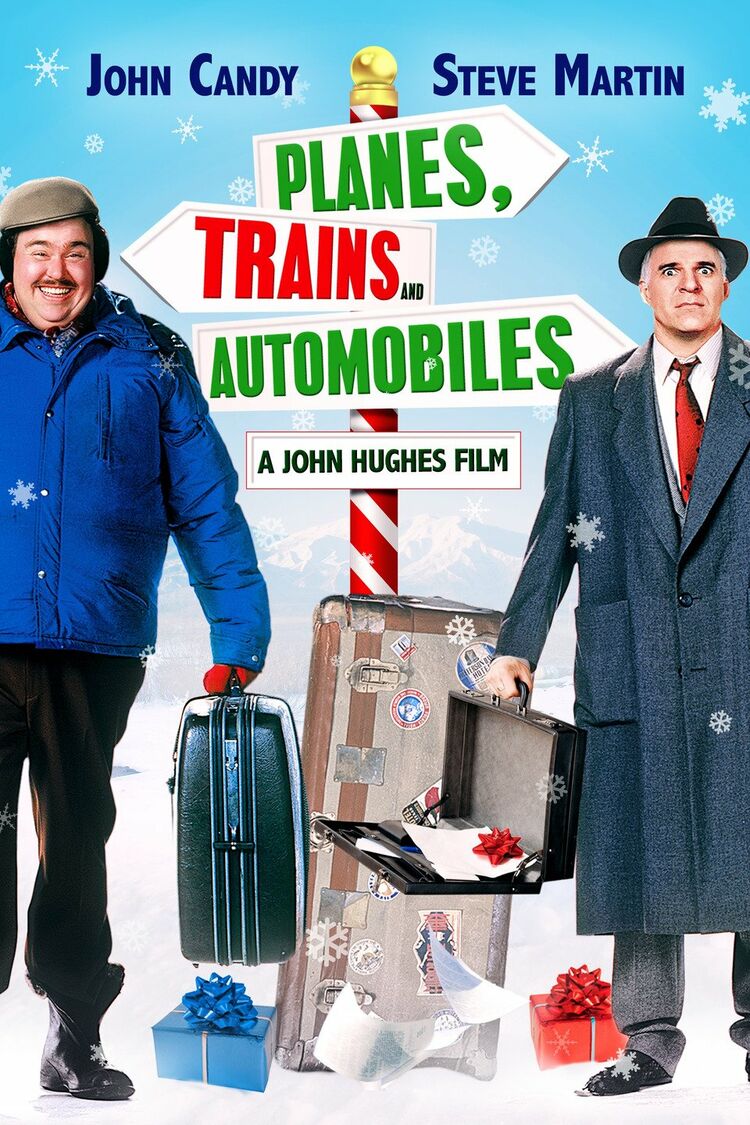 BLASPHEMY. Stick to Die Hard if you want to argue over whether a movie should be considered a 'Christmas movie'. At least there are some convincing arguments to be made for both sides. Planes, Trains & Automobiles is a Thanksgiving movie, through and through. Don't mess with that.
A Charlie Brown Thanksgiving
It may not inspire the same kind of devotion Linus has for The Great Pumpkin, or the adoration A Charlie Brown Christmas inspires every year, but A Charlie Brown Thanksgiving should be added to your Peanuts special schedule for the year simply for the toe-tapping wistful score created by Vince Guaraldi and his trio.
Of course, there's always the uncomfortable moment when you have to ask yourself – "Is Woodstock a cannibal because he ate some of the turkey at dinner?" Try throwing that query out to your family. The answers you'll get will probably be a lot more interesting any conversation you try to have about politics around the Thanksgiving dinner table.
Addams Family Values
The Addams Family has never done things the 'normal way' – including Thanksgiving. The 1993 follow-up to The Addams Family, flew mostly under the radar when it was released, but in the twenty-five years since, the film about the kooky, spooky, family has found a devoted group of fans who watch the film for Thanksgiving every year.
And why not? The Addams family, even with all their strangeness, are portrayed as the ultimate in family values. The plot centers around Uncle Fester (Christopher Lloyd) falling in love with a murderous babysitter played pitch perfectly by Joan Cusak who wants to steal the Addams family's fortune.
The best part? The 'Thanksgiving Day Play' put on by Wednesday (Christina Ricci) and Pugsley (Jimmy Workman). Wednesday, who had been terribly cast as the play's Pocahontas, has a rich opportunity to chew the scenery with lines like,  "You have taken the land which is rightfully ours," and leading the other young campers cast as Native Americans in a violent overthrow of the camp, burning it to the ground.
However, you may want to avoid this one if you're trying to avoid any and all politics this year. According to a recent interview with the writer of the film, Addams Family Values was a criticism of George (H.W.) Bush's America.
Home For The Holidays
Anyone who has had to go home to family for the holidays after suffering some setbacks in life will immediately recognize Holly Hunter's expression in Home For the Holidays. The Jodie Foster directed film brought some of Hollywood's heaviest hitters together for a film about the awkwardness of coming home to family who you haven't had much contact with lately because of how dysfunctional they are.
Hunter's character, Claudia Larson, has had a rough go lately. Just as she's about to head home for the holidays, she loses her job and learns her daughter
The movie is heavier than a lot of other films on the list – but sometimes, you need some emotional fiber like this.
Pieces of April
This Katie Holmes Indie flick was released back in 2003 and over the years, has quietly built a reputation for being one of the best Thanksgiving movies out there.
Holmes plays April, the eldest daughter in a highly dysfunctional family who lives in a small six-floor walk-up on the Lower East Side of Manhattan with her boyfriend Bobby. Despite being estranged from her family, April invites them out for Thanksgiving dinner – which is likely to be the last for her mother Joy, who was recently diagnosed with breast cancer.
The film is an inspiring journey that focuses on three plots: The family's trek to New York City, April cooking the Thanksgiving meal – made all the harder once she discovers her oven is broken, and finally, Bobby's efforts to find a nice enough suit to wear, so he can make a favorable impression on April's family.
All three journeys show how people can establish relationships in times of need and how those relationships can affect your view of the world.
The movie is a sweet, forgiving look at family and how they stick together, even as challenges constantly present themselves.
By RJ Johnson – @rickerthewriter