More students are pursuing certificates and associate degrees than bachelor degrees in the United States, and they tend to be more diverse in race and ethnicity, economic status and age. That's the overall conclusion of a recent research project done by the Center on Education and the Workforce at Georgetown University.
According to "The Overlooked Value of Certificates and Associate's Degrees," these "middle-skills pathways" are being issued in total at a slightly higher rate compared to bachelor's degrees — 50 percent for the former versus 47 percent for the latter, with the other 3 percent being students who are taking coursework without being enrolled in a certificate or degree program. Each year, colleges grant about two million four-year degrees and about a million each of the other credentials.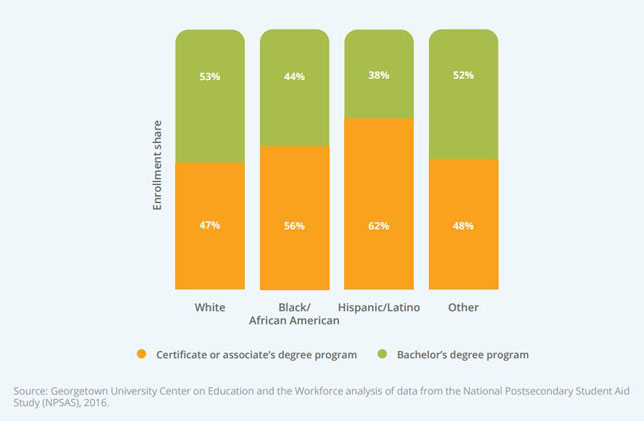 More than half of Black and Latinx undergraduate students are pursuing certificate or associate degree programs rather than bachelor's degrees. Source: "The Overlooked Value of Certificates and Associate's Degrees," from the Center on Education and the Workforce at Georgetown University
Among the credential seekers in college, Black and Latinx students tend to be more concentrated in the certificate and associate degree programs (56 percent and 62 percent, respectively) than in bachelor degree programs (44 percent and 38 percent). The reverse is true for Whites, who are more concentrated in the bachelor's degree programs (53 percent) than in the certificate or associate degree programs (47 percent). In fact, overall, Whites are "overrepresented" in four-year degree attainment, whereas in those states where Blacks and Latinxs make up a sizable proportion of the population, they are relatively overrepresented in certificate attainment. As an example, in Mississippi, Blacks are 37 percent of the population but earn half of all certificates awarded. In California, Latinxs make up 36 percent of the population but earn 44 percent of certificates awarded.
Even as Black and Latinx students are earning postsecondary credentials at higher rates, "the fact that they are obtaining lower levels of postsecondary attainment than Whites means we have a lot of work to do to close equity gaps," said Tanya Garcia, co-author of the report and a senior fellow at the center, in a statement.
Among undergraduate students, those who were independent and in the bottom income quartile were more likely to enroll in a certificate or associate degree program than dependent students (62 percent versus 54 percent). Among the top income quartile, 60 percent of independent students were more likely to pursue a certificate or associate degree, compared to just 24 percent of dependent students.
Age also was a factor in what type of credential people pursued. Those who were 36 years or older were nearly twice as likely to go for a certificate or associate degree than for a bachelor's (66 percent compared to 34 percent). Among those who were between 25 and 35, the difference was similar (64 percent versus 36 percent).
The same study also examined how the field of study for certificates and associate degrees influenced future earnings. Researchers found that certificates in engineering technologies or drafting had median earnings between $75,001 and $150,000 — higher than those with certificates in other fields. Workers with certificates in construction trades and other blue-collar fields had median earnings that were as high as those of bachelor's degree recipients in liberal arts and humanities (between $40,001 and $50,000).
Another factor influencing earnings: working in the same field as the certificate program. Workers who reported being employed in a job related to their certificate program had higher median earnings (between $40,001 and $50,000) than those not working in a related job (between $20,001 and $30,000).
On the associate side, engineering or architecture generated the highest median earnings, between $50,001 and $60,000. That's higher than the median earnings for bachelor's degree holders in education (between $30,001 and $40,000).
"Field of study matters most when it comes to certificates and associate degrees," noted Anthony Carnevale, lead author of the study and director of the center. "A worker with an associate degree can earn more than a worker with a bachelor's degree, and shorter-term credentials like certificates and certifications can out-earn associate degrees."
Whereas in the past, the path to a middle-class life was "less complicated," today, three educational paths have emerged, the report concluded: high school, middle skills and the bachelor's degree. "None of these pathways guarantees middle-class earnings, but each offers different odds of success. Because good jobs for workers with a high school diploma have decreased, the middle-skills and bachelor's degree pathways are now more likely to lead to jobs that pay well."
The full report is openly available on the Center on Education and the Workforce website.