Lookin' for love way out West? Six out of ten of the states where you're most likely to be catfished fall in the western half of the US: Nevada, Wyoming, Washington, Utah, Alaska, and Oregon.
The non-western states with the highest rates of catfishing are New Hampshire, Minnesota, Florida, and Maryland.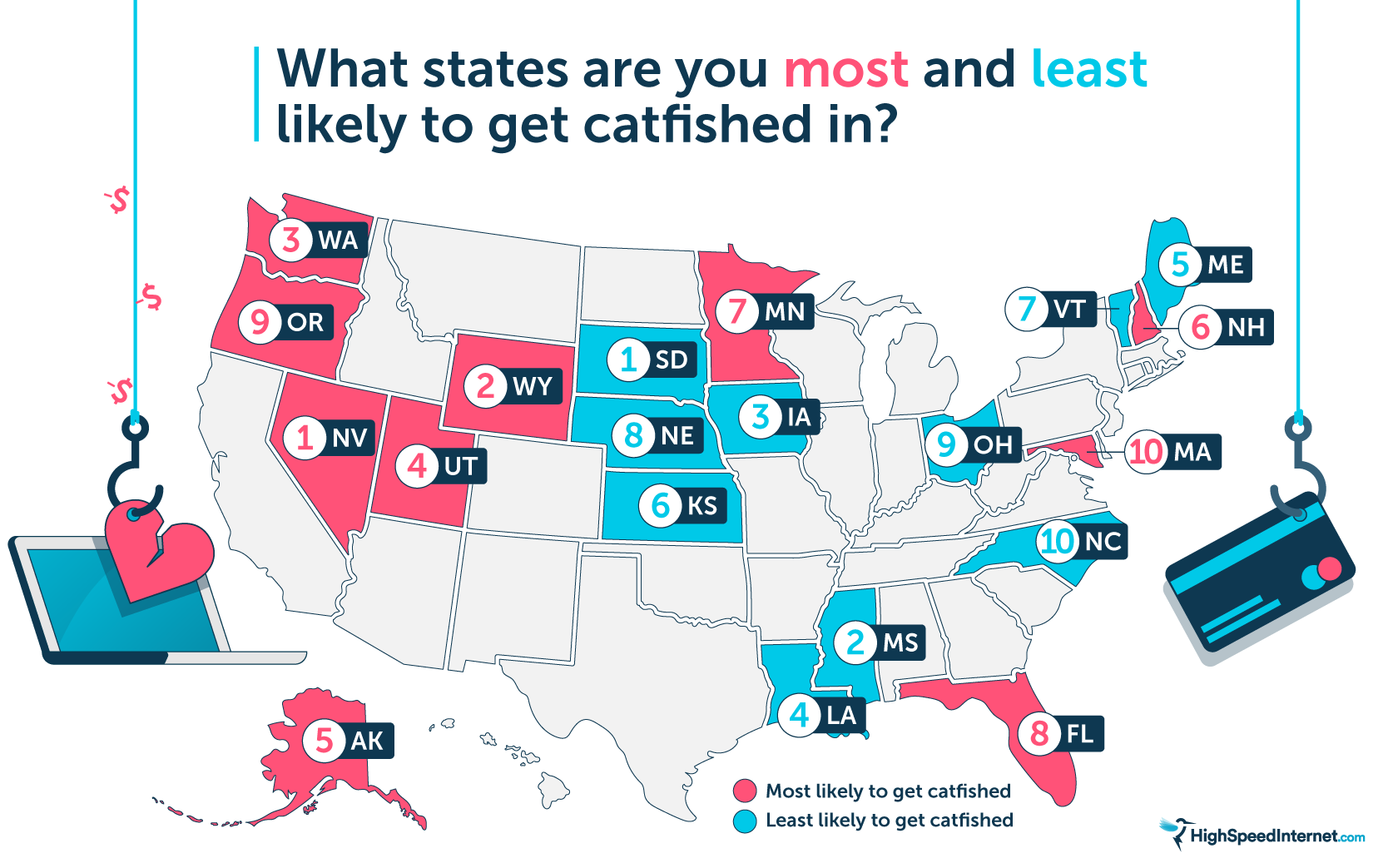 States where you're most likely to be catfished
Nevada
Wyoming
Washington
Utah
Alaska
New Hampshire
Minnesota
Florida
Oregon
Maryland
States where you're least likely to be catfished
South Dakota
Mississippi
Iowa
Lousiana
Maine
Kansas
Vermont
Nebraska
Ohio
North Carolina
Compared to their western counterparts, people in the Midwest and South seem better clued into the catfishing scams—or perhaps the West is better about reporting?
States that have the highest and lowest cost per victim
Across the US, a total number of 19,473 people reported a total of $475,014,032 in cash lost to catfishing scams in 2019.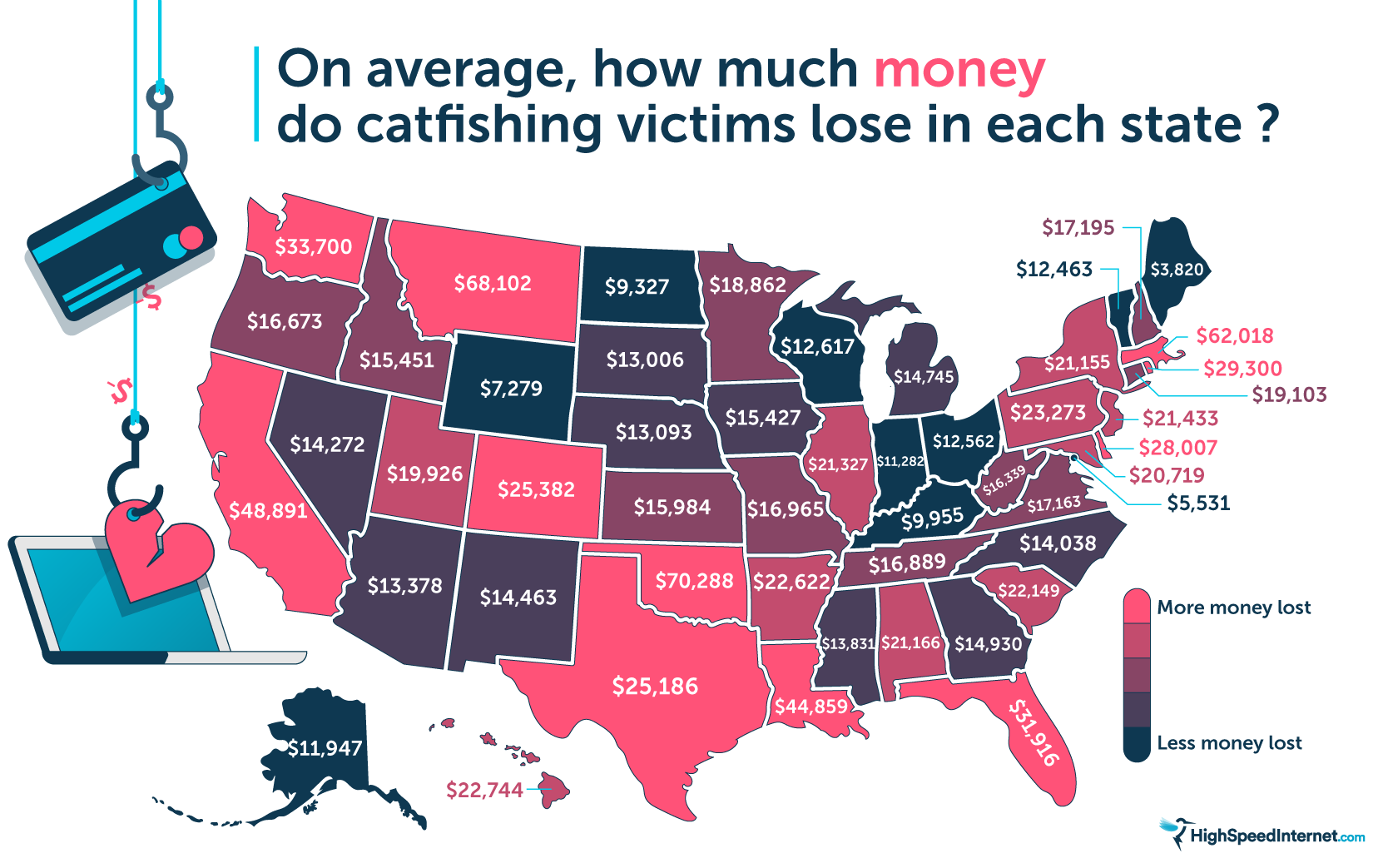 The top three state losses came from Oklahoma, Montana, and Massachusetts.
States with the most dollars lost per victim
Oklahoma – $70,288 per victim
Montana – $68,102 per victim
Massachusetts – $62,018 per victim
California – $48,891 per victim
Louisiana – $44,859 per victim
Washington – $33,700 per victim
Florida – $31,916 per victim
Rhode Island – $29,300 per victim
Delaware – $28,007 per victim
Colorado – $25,382 per victim
States with the least dollars lost per victim
Maine – $3,820 per victim
D.C. – $5,531 per victim
Wyoming – $7,279 per victim
North Dakota – $9,327 per victim
Kentucky – $9,955 per victim
Indiana – $11,282 per victim
Alaska – $11,947 per victim
Vermont – $12,463 per victim
Ohio – $12,562 per victim
Wisconsin – $12,617 per victim
In terms of cost per victim, the top three states could all buy a self-driving dual-motor AWD Tesla Cybertruck and still have some change left over to go on some fancy dates.
Meanwhile, Maine has the lowest cost of $3,820 per victim, which is what we've all spent at some point on flowers and chocolates anyway—right?
The past few years have been rough for dating: the number of victims per 100,000 residents rose 52% from 2015 to 2019. With the way things are going in 2020, we wouldn't count on that number dropping either.
How to avoid catfish online
Love hurts, but so does losing a bunch of money to an online scam. When you're looking for the right one, there may be plenty of fish in the sea, but here's how you can avoid a catfish:
Spotting a catfish
"A good rule of thumb is that if it seems too good to be true, it is," says Heinrich Long, a Privacy Expert at Restore Privacy.
Experts warn to be wary of the following catfishing characteristics:
They appear to be unbelievably attractive, single, rich, or "have a great job."
They ask you for money.
They seem evasive or avoid giving details about life, family, etc.
They claim to be from another country, promise to visit, but always have something come up to keep you from actually meeting them.
Whether you've already spotted a catfish, or you're still trying to figure out if someone you met online can be trusted, here are some helpful tips to avoid getting burned.
Keep conversations inside online apps until meeting in-person to prevent disclosing more personal info.
Never reveal information susceptible to identity-theft such as banking information, or common security questions like maiden names, childhood pets, or where you were born.
Never send money to people you haven't met in person.
Trust your gut, and don't get too romance-happy until meeting in-person.
Try reverse searching their images using Google or other tools.
File a police report if they ask for money (or you've already sent it).
Block them and stop responding to their messages.
There are many ways a catfish can try to rob you of your money, time, or effort. You can learn more about online romance scams from the Federal Trade Commission, FTC, or more catfishing tips from the BBB.