Public Enemy frontman, Chuck D, has spoken out about the Astroworld tragedy in defense of rapper Travis Scott, placing the blame on promoters instead.
In an impassioned Instagram post from the legendary emcee, he dismissed comments that place blame on Travis Scott, implying that the rapper should not catch the brunt of the criticism. He emphasized that Scott's role as an artist is to only be an artist while placing the promoters and organizers under scrutiny for their roles.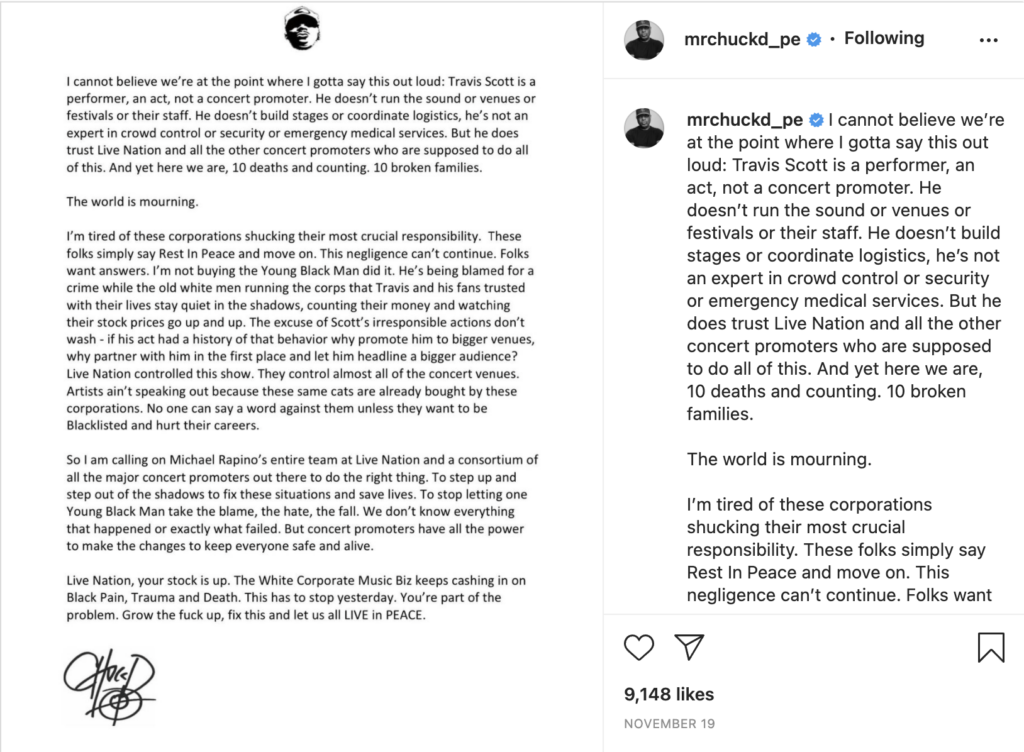 "Travis Scott is a performer, an act, not a concert promoter. He doesn't run the sound or venues or festivals or their staff," Chuck D stated in his Instagram post. 
The music legend directly points blame on Live Nation, the promoting organization for the concert, for failing to protect concertgoers and step out of the shadows. According to Billboard, Chuck D blasted Live Nation's President and CEO Michael Rapino as well as other organizers, calling out their lack of accountability. He also states that promoters have the power to ensure concertgoers' safety at their events. 
He also accuses Live Nation of participating in a trend of white-owned companies making money off of Black artists and allowing them to take the public backlash for their mistakes.
The Astroworld tragedy has been called a "mass casualty" event leaving 10 dead and dozens injured. Travis Scott has pledged to pay for funeral arrangements and offered assistance in paying for mental health treatment for all in attendance.