Microsoft's Windows 10 upgrade "nag" campaign — an effort to convince customers running Windows 7 and Windows 8.1 to upgrade to the new operating system — began today, with users reporting that they'd seen the ad-like screens.
Late Night Parents confirmed on several Windows 7 PCs that Microsoft had triggered the notification.
Earlier today, Microsoft announced that the Windows 10 upgrade would be available starting July 29, just eight weeks away.
The update was marked "Recommended" for some machines, meaning it was automatically downloaded and installed where Windows Update had been left with its default settings intact. On most PCs, however, the update was optional.
Microsoft flipped the Get Windows 10 switch today. According to the scheduled tasks the app adds to Windows, it will appear after users log in and refresh itself daily at 8 p.m. local time. A small Windows logo icon appears in the notification section of the task bar — at the bottom right of the screen — and clicking the icon launches the Get Windows 10 app. Currently the only thing users can do is reserve a copy, a process that requires a single click in the app. Anyone who wants a confirmation must also provide an email address.
Between now and July 29, however, the app will download and install other updates that Microsoft said will be necessary "to make the final installation go more quickly." The upgrade files — about 3GB worth — will be silently download to the device in the background, on or after July 29, and the user will be told when it's ready to install.
It was unclear if everyone who reserved a copy through Get Windows 10 will receive the all-clear on July 29. "When your upgrade is ready after July 29, 2015, you get a notification that lets you get started," Microsoft said in a longFAQ published Monday.
When the free upgrade arrives, users will have one year — until July 29, 2016 — to grab it. The version served to customers will depend on what they're running now: Windows 7 Starter, Windows 7 Home Basic, Windows 7 Home Premium and Windows 8.1 will receive Windows 10 Home, the consumer-grade edition.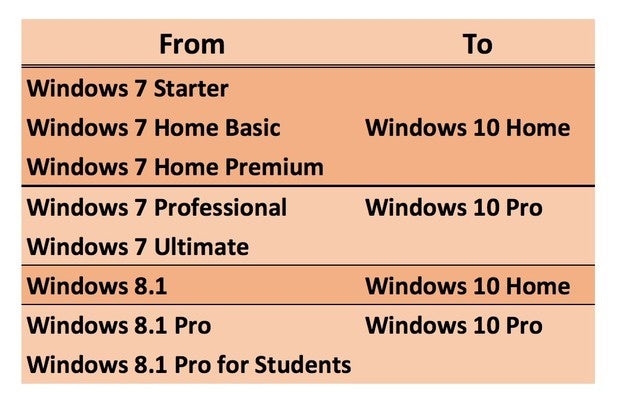 KB3035583 was not pushed to devices running Windows 7 Enterprise or Windows 8.1 Enterprise, the versions used by large organizations and companies. The nag icon and screens will also not appear on Professional or Pro editions when they have been joined to a corporate network.
Non-genuine Windows — that's a Microsoft term for pirated or counterfeit copies of the operating system — will not see the notifications or the Get Windows 10 app.
More information about the Get Windows 10 campaign can be found in the just-posted FAQ and on a page of Microsoft's Windows website.